Introduction
I had the honor of attending the Magnet User Summit 2019 in Nashville on April 1-3. This was my first professional conference as a junior at Champlain College.  It was exciting to be able to correlate the presentations with the knowledge I've gathered in my courses. The conference was also a great networking space where I got to meet professionals in the digital forensics industry. I participated in various sessions, both lectures and labs. One of the sessions that I really appreciated was on Using Memory Forensics Analysis to Guide your Investigation by Aaron Sparling, Computer Forensic Examiner with Portland Police Bureau.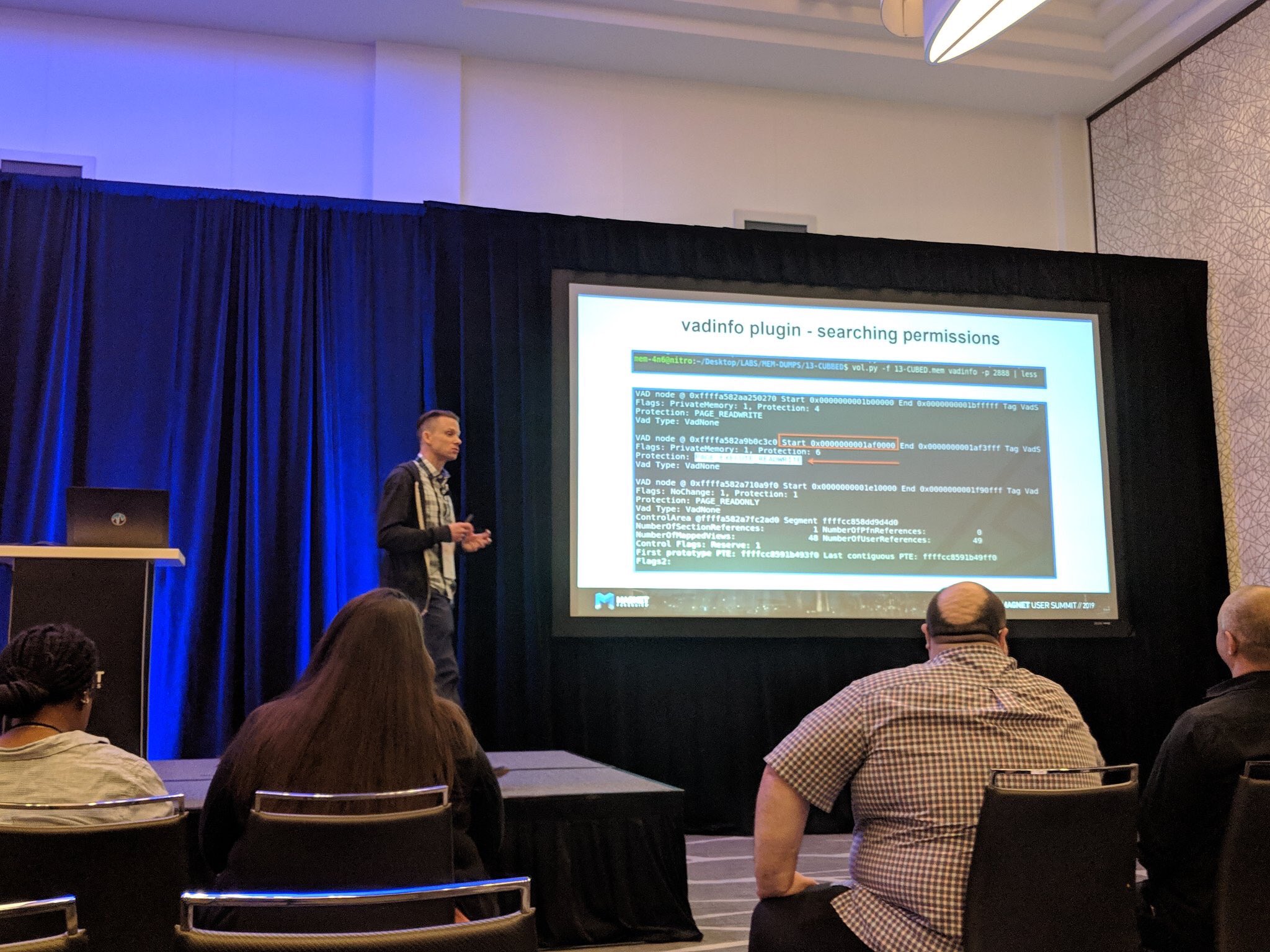 Using Memory Forensics Analysis to Guide Your Investigation
Memory analysis speeds up traditional forensic examinations and can drive the investigation. On a Windows system, memory includes physical memory (RAM) and system files such as pagefile.sys and hiberfil.sys. There are a lot of forensic artifacts that reside in memory which should not be ignored. Almost every process executed on a computer goes through RAM at some point. Not to mention that memory acquisition can be done in a fraction of the time compared to hard drive acquisition which usually takes hours.
Some of the analysis tools shared with us include: Bulk Extractor, Photorec, Scalpel, Volatility, Page_Brute.py and YARA. You can also use strings and GREP/REGEX. I had a bit of experience with all these tools except for Yara which was completely new to me. It is a tool that allows the analyst to write textual and/or binary patterns to hunt for malware or anything else they choose. Page-brute.py uses YARA rules to parse pagefile.sys within a command-line interface. Volatility is good for decompressing hiberfil.sys to .bin for faster analysis. It is extensible i.e. you can write your own plugins or modify existing plugins for your analysis.
Memory Forensics Lab
In addition to this lecture, I also took part in a lab on memory forensics run by Jamey Tubbs, Magnet's Director of Training Operations and Curriculum Development. During this hour and a half lab, we were able to build a case/user profile from 2GB of RAM using Magnet Axiom Process and Examine. We found crucial artifacts such as user SID, browser search terms, their timestamps, and local file paths. Such information gives the investigator direction and speeds up the process once the hard drive is acquired.
Conclusion
The importance of preserving memory when dealing with a live system cannot be overstated. The conference was quite informative and a great first experience. It was also inspiring to see all the projects Magnet Forensics are working on and how beneficial their products have been to the industry both within the private sector and with law enforcement.  
Blog written by Champlain College junior Lavine Oluoch 
Be sure to check us out on
Twitter
@ChampForensics
, Instagram
@ChampForensics
, and Facebook
@Champlainforensics
 to see other important information pertaining to our project!