In the world of cybersecurity, there are many specialist roles for many varied tasks. Adversary Emulators who provide a "sparring partner" for untested systems and programs. Security Analysts who examine systems for security vulnerabilities and monitor them, and Security Engineers who provide them the tools and means to do so. Software Security Engineers who design and program firewalls and breach-detection systems.
But, like any combined effort, none of it is accomplished quickly, easily, nor at all, without logistics and support-staff. And that's what IT Engineers provide: general-purpose aid with password-recovery, account-creation, and account-resets on private systems, as well as fixing computer-hardware problems. Sometimes, they even install firewalls and various security-systems. They are the custodians and groundskeepers of the cybersecurity world, hence their workplace being called the Network Operations Center (NOC). The IT Engineers of the Leahy Center answer client-requests, and internal roadblocks, for all of these issues, and more, daily. Let's hear from some of them, now…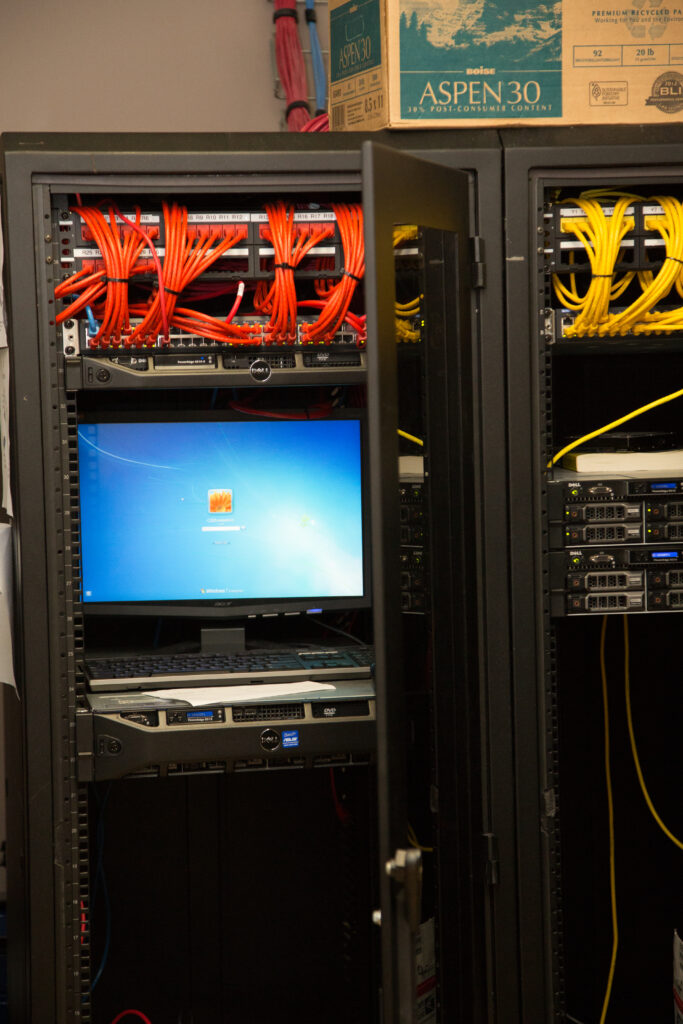 Testimonies
From Zari Daniels:
Hello, my name is Zari and I currently work at the Leahy Center as an IT Engineer at the Leahy Center for Digital Forensics & Cybersecurity. I have been an IT Engineer at the Leahy Center since January of 2021. IT Engineers are responsible for communicating with clients to troubleshoot any issues that they may be experiencing. We help clients through a ticketing system and we often answer phone calls as well. IT Engineers work closely with the Champlain support team to solve issues that occur on-campus, in addition to other clients.
I chose to work NOC at the Leahy Center because I had prior experience in highschool and I believed it would be beneficial to my career goals to build upon material learned in the classroom. As a Computer & Digital Forensics student my classes often cover how to troubleshoot computer problems. Working at the Leahy Center gave me an opportunity to take what I learned in classes and apply it, hands-on, with the added experience of communicating with others to fully understand the problems that I solve, day-to-day.
From Kennedy Sloan:
Hello, my name is Kennedy Sloan. I'm currently a Sophomore Computer Networking and Cybersecurity Major at Champlain College. I work part-time as an IT NOC Engineer at The Leahy Center for Digital Investigation. Our team of NOC Engineers upholds a high standard of customer-service, as we take on supporting our clients when replying to tickets and through phone calls. We also handle internal work, smaller projects, and tasks amongst ourselves.
When I came to Champlain, I was told a lot of good things about the Leahy center and I am very interested in doing field work that corresponds with my course teachings because the hands-on experience helps me to really understand what I am learning. Regardless of me being quite new to the team, so far the team has been great to work with and working here has been a good experience so far and I'm excited to continue forward here at the Leahy Center.
.
In the world of cybersecurity, and the world we live in, at large: you never solve the big problems without first solving the small ones. At the end of the day, somebody has to build that bridge if you want to march your army over the river. Without your friendly neighborhood IT Engineers, very few problems in the world of industry would get solved in a timely fashion, and the jobs of other cybersecurity and digital forensics specialists would be made twice as difficult. The Leahy Center's own IT Engineering team are always ready to lend a hand, within and without.
Stay up to date with Twitter, Instagram, Facebook, and LinkedIn so you always know what we're up to!
Written by James Kallenbrum '23 // Professional Writing